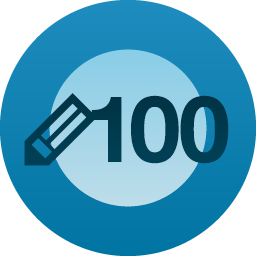 Congratulations on writing 100 posts on The Caffeinated Writer!
Well, after about 8 months of blogging here, I have finally achieved a great accomplishment. My 100th post! 
While this one is actually my 101st post, I figured I would still take the opportunity to brag on my achievements here, and to extend my sincerest gratitude to all of my followers and new friends.
This web address has actually been active for several years, as I originally used the blog long ago to write about my life. Naturally, like many people do with blogs, I forgot about it, or lost interest, or whatever my excuse was, and it just sat untouched for years.
When I began this specific blog on October 13th, 2015, it was titled Musings of Danielle. I mainly started it as a book review blog, because I discovered that if you write book reviews, you can get free books!
But when NaNoWriMo came along, I realized that the support on WordPress for writers was huge, and I wanted to write about more than just book reviews.
I took a Blogging U Course (Blogging 101) that convinced me that rebranding was a great idea. And thus, The Caffeinated Writer was born.
At the time of writing this post, The Caffeinated Writer has received 437 followers.
I hope that each of you enjoys my posts!
It has also received:
7,785 Views
2,889 Visitors
1,060 Comments
2,243 Likes
This is all so much bigger than I ever thought this blog would be.
So again, my sincerest thanks to everyone who has read, is reading, or who will ever read my blog. I can't wait to see where we're at when 200 comes along.